Palladian Academy Trust appoints new CEO
Back
4 May 2021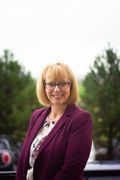 The Board of Palladian Academy Trust (PAT) are delighted to announce the appointment of Donna Tandy to the post of Chief Executive Officer with effect from 1 September 2021.
Donna joins PAT from the Focus Trust, a successful multi-academy Trust based in Greater Manchester and Yorkshire, where she currently holds the post of Deputy CEO. Donna has an exciting track record of executive leadership in education and ensuring continuous school improvement, working both within her own Trust whilst also setting up national networks for professional development and support. Donna's experience and passion for inclusive and lifelong education for all make her a perfect match for PAT as a values-led organisation that holds the needs of our learners at the forefront of our thinking.
Donna will take up the reins of leadership from Tim Withers, the Trust's founding CEO when he retires at the end of this academic year. Tim's excellent work has paved the way for Donna to build on strong foundations for evolution and growth of PAT and we are looking forward to a seamless transition for our organisation. Our communities will, of course, be offered the opportunities to both welcome Donna and say our thanks and farewells to Tim at the appropriate times.