Random Act of Kindness Day 17th February 2020 9.30am to 2.00pm
Random Act of Kindness Day 17th February 2020 9.30am to 2.00pm
6 February 2020 (by admin)
We will be preparing the grounds for our new Forest School Area, creating some new growing beds. We also have other jobs such as painting a shed, laying a path and tidying up. Some of the jobs are child friendly and others are adults only.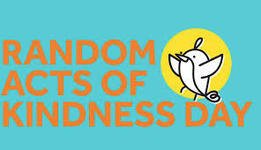 Sporting Family Change will be running a children's club while the parents are helping with the harder work.
If you know anyone who can donate goods or their time, Please ask them to contact the school office.
Thank you to:
Sporting Family Change
The St John's Foundation
Cross Manufacturing
Russell's of Bath Car hire
Natwest
for your pledged support.