What are we doing to aid Planet health?
Back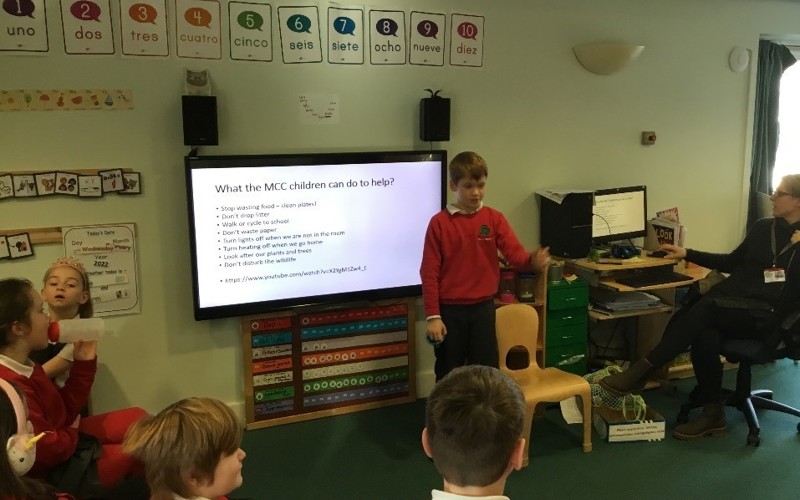 11 February 2022
At St Martin's Garden Primary each class from Y2 to Y6 has two Climate Leaders that sit on the new SMGP Eco Council that meet once or twice a month.
The children have identified the following areas that they would like the Eco Council to focus on - Saving Energy, Less Waste (reuse and recycle) and Improving our Outdoor Environment.
They have worked together with Energy Sparks to come up with a list of actions (see below) for each focus area and are starting to work their way through the list. The first thing they have tackled is improving recycling across the school. We now have crisp packet recycling in the dining hall, writing equipment recycling in the staff rooms and soft plastic recycling in the Margaret Coates Centre (MCC) kitchen, as well as paper recycling bins in every classroom and food waste bins at lunch.
The MCC Climate Leader led an assembly for the children in Gold and Platinum classes. The children learnt about Climate Change and the small things they can do to help such as ensuring lights are turned off in empty rooms, leaving less or no food left on their plate at lunchtime and making sure we go Litter Picking around the school site.
•Recycling
•All waste paper to go in the recycling bins
•Soft plastic recycling bag in the kitchen – bags for bread, fruit, biscuits etc
•Pens recycling box in the office/staffroom
•Food waste recycling box at lunchtimes
•Save paper – not too much printing, print double sided.
•Saving Energy
•Turning off light switches
•Turning off whiteboards
•Not leaving the hot tap running
•Improving our environment
•Don't drop litter / go litter picking
•Look after the trees, flower beds, grass areas
•Make bug hotels