OPEN MORNING 2 ~ TUESDAY 27th NOVEMBER 2018
OPEN MORNING 2 ~ TUESDAY 27th NOVEMBER 2018
22 October 2018 (by admin)
Please come along to our second OPEN EVENT on Tuesday 27th November 2018.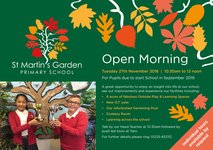 Headteacher talk at 10.30am followed by Pupil led tours at 11.00am.
Our visitors on our first Open Morning (16th October) said our School was
"Fun & Welcoming", Spacious & Colourful", "Calm & Quiet", "Big & Fun". They especially loved our Year 6 Guides, our Outside learning spaces, our Pool and our Chickens!
Come and see St Martin's Garden for yourselves. Everyone Welcome!