Hold the Front Page!!!
Hold the Front Page!!!
7 February 2018 (by admin)
Ian Waller, Editor of Bath and Wiltshire Parent magazine visited Year 4 (Acer and Pine Classes) today to be interviewed about working as a Journalist and Editor.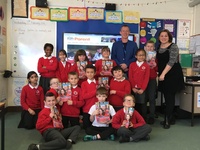 The children then wrote their own Newspaper articles based on what they had learnt from Ian. Thank you for your time, Mr Waller, we loved it! Please come again!